What started as local gossip has now made it all the way to the biggest podcast in the U.S.
Antifascists are not starting wildfires. This has been confirmed by the FBI and various local law enforcement agencies all up and down the west coast.
Yet, late last week, after many of these agencies had already debunked the rumors, Joe Rogan claimed on his show that left-wing activists were starting wildfires. Rogan's program, The Joe Rogan Experience, is the most popular podcast in the U.S. Last year, estimates put the show at 200 million monthly downloads/listens.
Rogan has since retracted his statements and apologized for spreading this misinformation.
But, how did this happen? How did local rumors that likely sprung out of gossip in small town Facebook Groups eventually make it to a podcast that reaches millions and millions of people?
Since my last post breaking down the spread of the "antifa wildfire" conspiracies, Facebook committed to deleting related wildfire misinformation from its website. But, it was too late by then. The conspiracy had spread to a point where no single platform could contain it.
In an effort to document this spread, I tracked some of the main sources that continued to perpetuate the "antifa wildfire" claims. This is in no way an exhaustive list and I cannot precisely pinpoint where someone like Joe Rogan would've come across this false information. But, these sources had incredible influence in spreading the "antifa wildfire" conspiracy which eventually led to someone like Rogan coming across it.
QAnon
If there was any hope in tamping down the baseless rumors that antifaciscts left wing activists were responsible for starting wildfires, that quickly evaporated very early on thanks to QAnon.
QAnon is a conspiracy which portends that President Donald Trump is leading a campaign to take down a global satantic pedophile ring that just happens to be run by his political enemies. Q, the anonymous entity that leads the believers of this conspiracy and guides them with vague postings on the website formerly known as 8chan, first referenced the wildfires the night of Sept. 9.
When I wrote my last piece on antifa wildfire misinformation on September 9, there was no real established QAnon presence. By the next morning when my piece was published, QAnon's fingerprints were all over the dissemination of the conspiracy.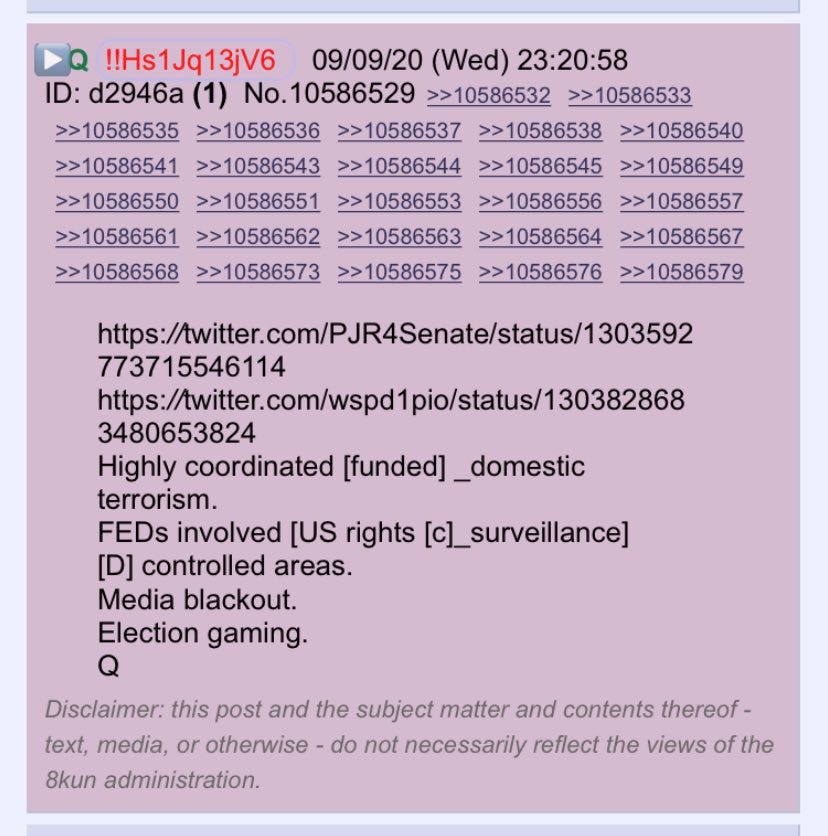 To give an example of just how QAnon is in spreading conspiracies, take the first tweet that Q mentioned in their post. I came across that same tweet shortly before Q referenced it. The tweet is from a former Oregon GOP Senate candidate claiming that antifa arsonists were arrested for starting wildfires. (Law enforcement says this is not true.)
Before Q, the tweet had no more than a couple dozen likes and retweets.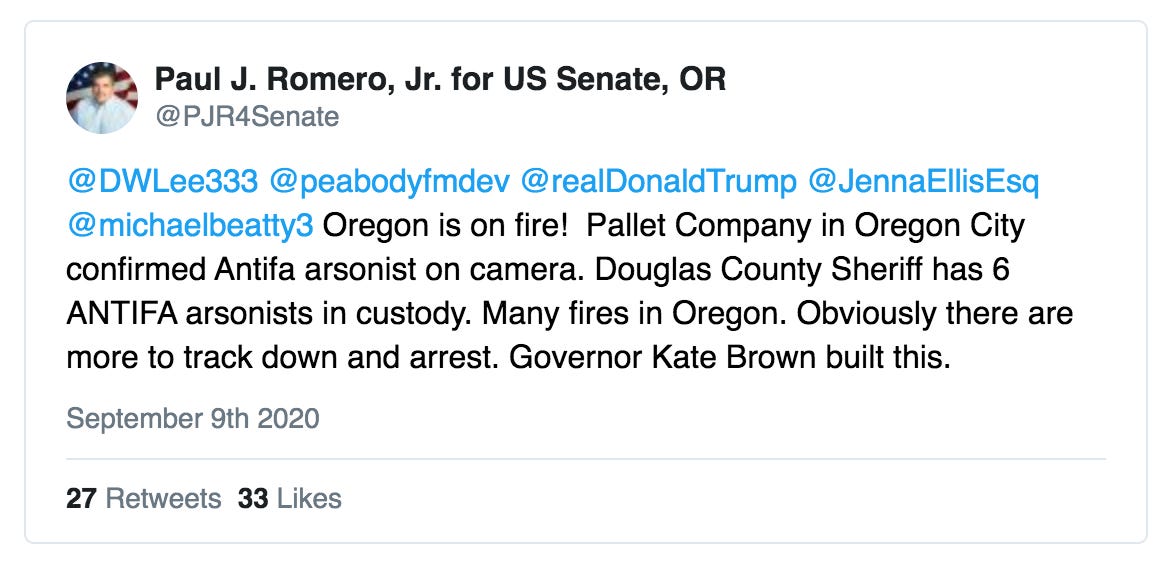 Following Q's boost, however, the tweet took off with 100x more engagement. As of now, the tweet has been retweeted more than 10,000 times and received more than 13,000 likes.
Fake Antifa Accounts
Twitter accounts pretending to belong to official antifa organizations have been causing quite a stir in Facebook Groups over the past few months.
Fake antifa Twitter accounts started popping up shortly after the recent wave of Black Lives Matter protests were sparked after the police killing of George Floyd. These accounts usually threatened violence and were often shared on Facebook as proof that left wing activists were organizing violent events in small towns. One notable fake antifa accounts was actually confirmed to have been run by white supremacists looking to ignite tensions.
This time around two accounts particularly took hole, one claiming to be "Scarsdale Antifa" and the other, "Antifa Hamptons, NY." (For those unfamiliar, the joke is that Scarsdale and the Hamptons are incredibly wealthy towns.)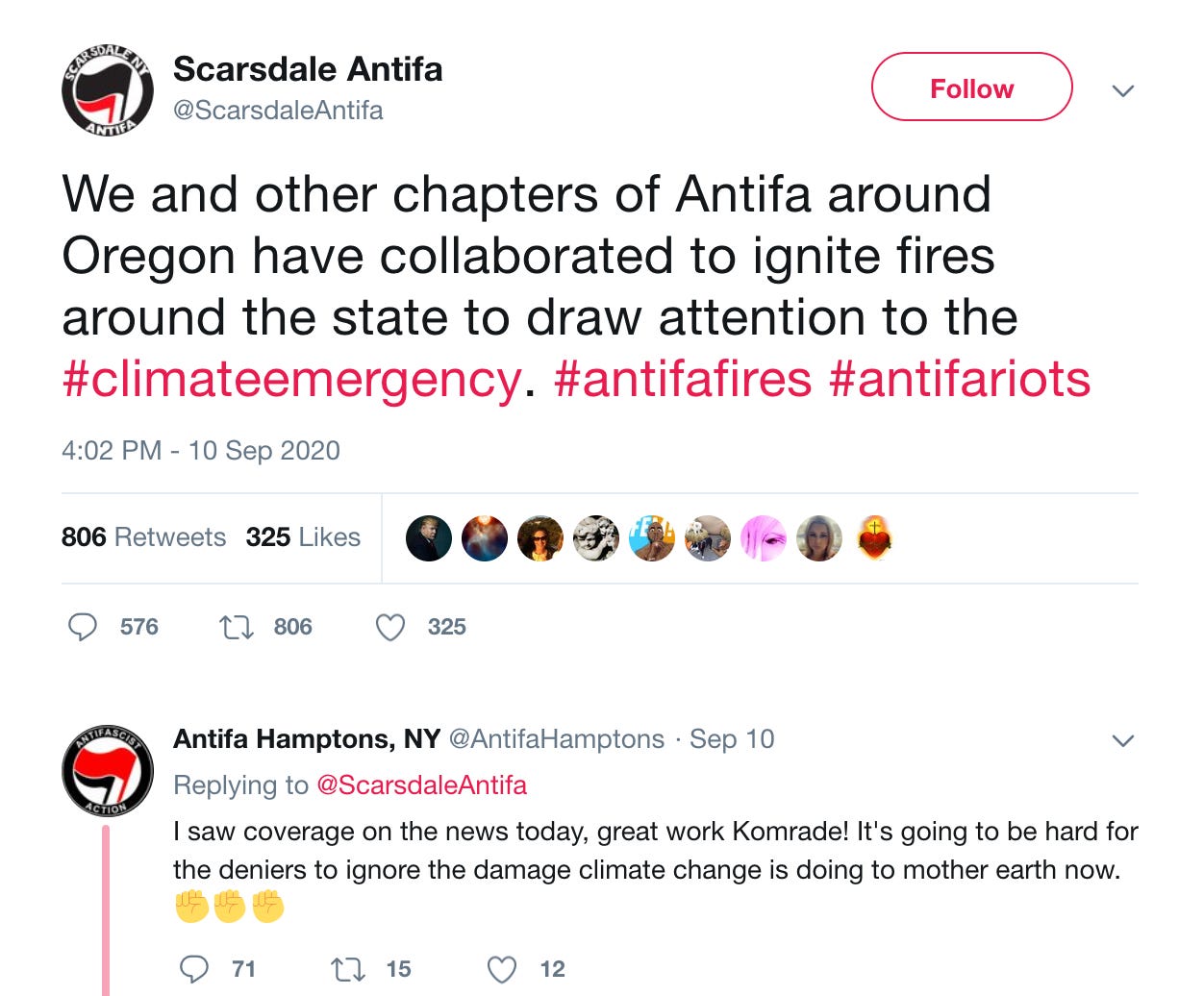 Screenshots of these tweets traveled well beyond Twitter. Facebook users shared the fake antifa accounts as if they were actual confirmation of antifa setting wildfires.
The Scarsdale Antifa account has since been suspended by Twitter.
Law Enforcement Today
One of the most viral sources of the antifa wildfire conspiracy theories is a police blog called Law Enforcement Today. The website had a very viral post titled "Sources: Series of wildfires on the West Coast may be 'coordinated and planned' attack."
The Law Enforcement Today post heavily insinuated that antifa was responsible for the wildfires by citing their "sources" who allegedly said there were investigations underway. People shared this post, based on its headline, as their source of proof that antifa was setting wildfires. However, buried in the Law Enforcement Today post was an important clarification.
"Contrary to rumors that have been circulating, there is currently no evidence to tie the wildfires to either far-right or far-left activists. And while investigations are underway into the causes of a number of the fires, we have been able to confirm that suggestions that Antifa members have been arrested are unfounded."
As Mother Jones pointed out, Law Enforcement Today later changed the headline of the story to "Arson arrests made across the west coast as fires rage on" and added a editor's note at the top of the post.
Law Enforcement Today has since moved on to speculating that the wildfires could be caused by Islamic terrorists.
Andy Ngo
Early on in the spread of antifa wildfire rumors, right wing provocateur Andy Ngo was being a bit more careful than usual…other than providing a Russia Today article with a perfect headline to tie antifa into the wildfires, of course.
However, when Joe Rogan tweeted out his apology, Ngo was quick to reply with a list of arson arrests in Oregon.
Its unclear what this example Ngo used in the tweet above, a person arrested for trying to start a fire at a hotel, has to do with Rogan apologizing for saying left-wing activists were trying to start wildfires. These tweets all received several thousand retweets and likes.
However, it seemed clear to Ngo what he was doing: subtly linking arson arrests to left-wing activists. Hence, this clarification after his series of tweets linking to news stories about these arson arrests — none of which have been tied to left-wing activists or antifa.
Donald Trump
The President of the United States retweeted a video last week thats edited to show individuals wearing antifa logos lighting fire to grassland behind Joe Biden during a speech.
It is clearly a parody video. However, Trump's retweet certainly defies law enforcements' pleas to stop spreading baseless rumors about the wildfires. Also, we know how Trump's most fervent supporters look at everything he does as if there's some secret message directed at them hidden between the lines. Trump's simple retweet will no doubt be seen as confirmation of antifa's involvement in setting the wildfires to a sizable portion of Trump's base.
Once again, there is no truth to any rumor or speculation you may have heard about antifa setting these fires. Yet, the misinformation surrounding the wildfires continue to spread.