Discover more from misinfo
misinfo is a brand new publication debunking conspiracies and misinformation and criticizing the people and media that spread it.
Antifa didn't start the fires
But that's not stopping the 2020 wildfire season conspiracy theories
By now, you've probably seen photos of the hellish red skies blanketing the west coast. Wildfires are devastating enormous swaths of California, Washington, and Oregon.
Conspiracy theorists know why these fires are happening: it's antifa, of course!
Rumors, speculation, and outright disinformation are spreading around the internet accusing antifascist protesters of purposefully setting the wildfires, particularly those located in Oregon (because, you know, Portland).
Obviously, there is zero proof of antifa setting wildfires or being arrested for setting wildfires. Because it's not happening.
No reporting, local or national media, has blamed antifa for these wildfires. In fact, police in Medford, Oregon have specifically had to refute fake posts going around on Facebook about the arrests of "antifa arsonists."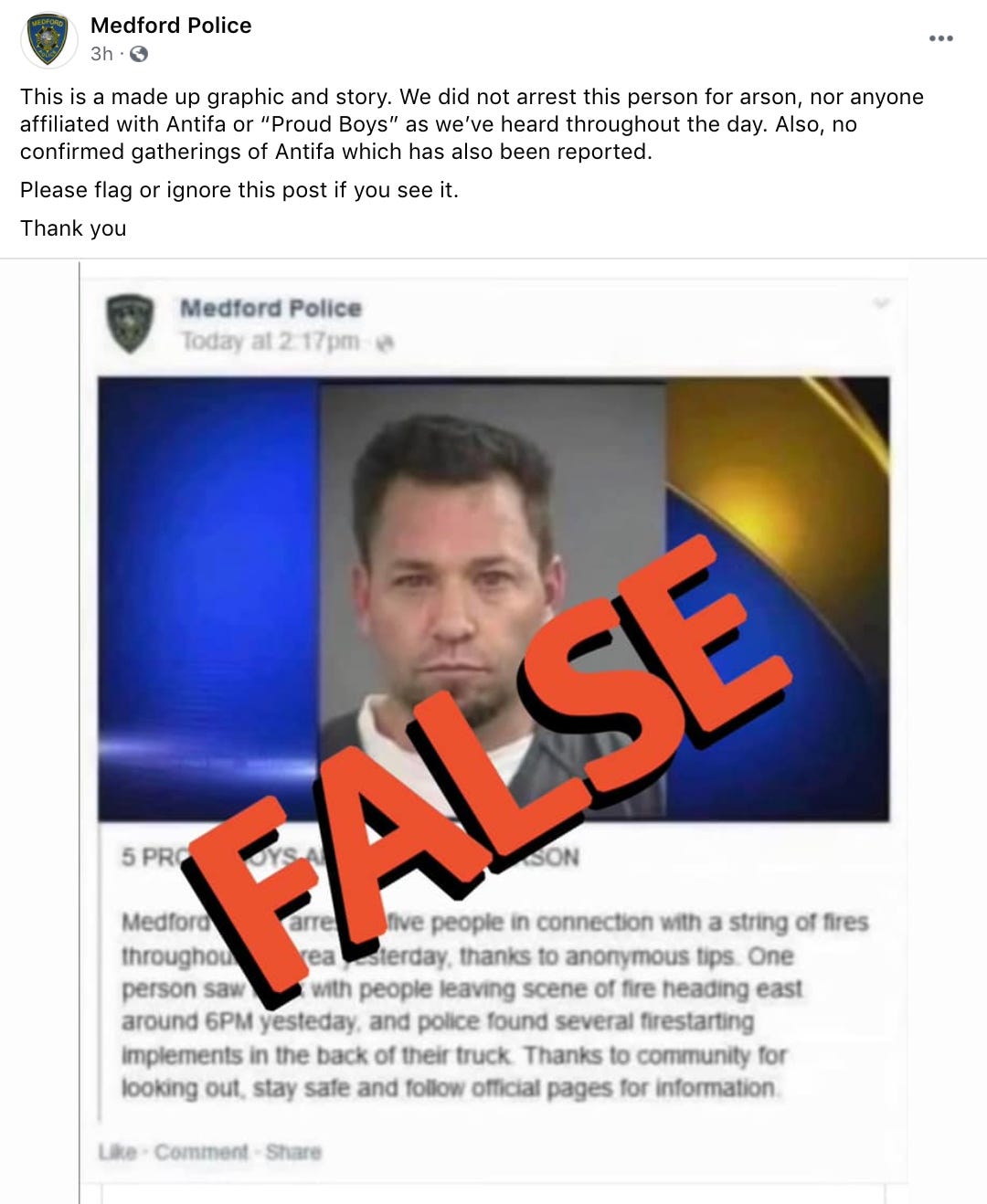 Regardless, right wing personalities have continued to push this false narrative online. The main talking point appears to be that a number of antifa protests, usually purported to be around 7, have been arrested for starting the fires.
A Twitter verified U.S. Senate candidate, Paul Romero Jr., who came in second in the Oregon Republican Primary with over 100,000 votes in May, posted such a conspiracy on Twitter.
Katie Daviscourt of Turning Point USA tweeted similar claims, which I must add are completely irrelevant to the post in her screenshot. Note: the Molalla Police Facebook post in the screenshot does not confirm a single case of arson or antifa involvement. In fact, it appears the post confirms that the rumors and conspiracy theories spreading online don't back what they're actually seeing.
There are many causes for these wildfires. For example, one of the fires in Oregon was started when power lines were knocked down by falling trees. In California, more than 10,000 acres were set aflame thanks to a gender reveal party gone wrong.
We are quite literally in what is known as wildfire season in western North America. Yes, the season is getting worse, but that's because of factors such as climate change. It's no coincidence that California just recently experienced the highest temperature ever recorded in the midst of these wildfires.
So, where are these conspiracies originating from? It's difficult to track as many of these posts have since been removed or were spread in private groups, but signs point to…where else, Facebook.
A search on the social networking platform pulls up numerous posts spreading stories about a friend or a relative who heard through the grapevine about antifa arrests connected to the wildfires.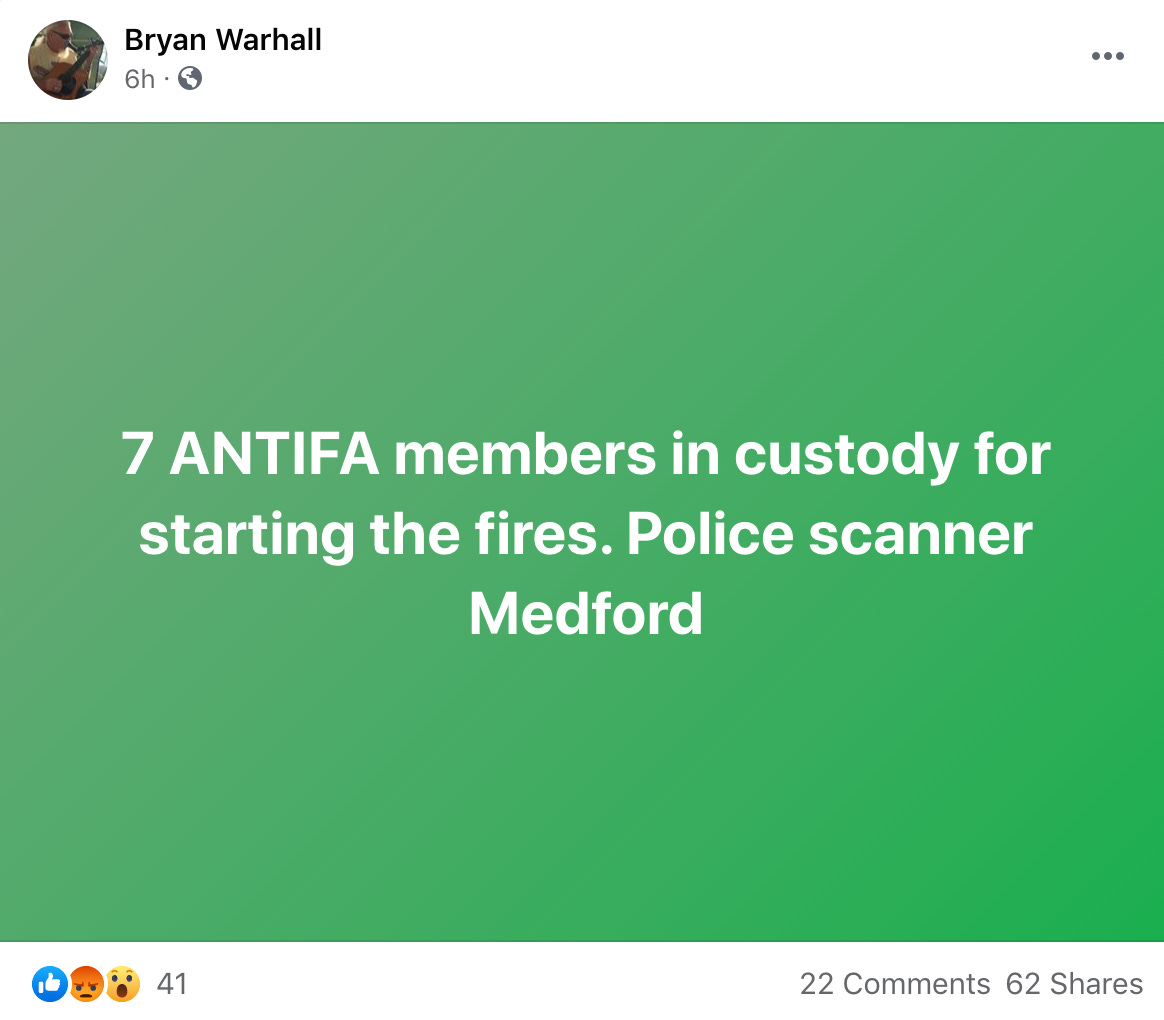 Usually the users claim their information came from a first hand experience or it was overheard on a police scanner, which explains why there is no verifiable source or news article.
Their "proof," if they have anything to show at all, often consists of a screenshot of another user's Facebook comment. For example, the post below has been copied and pasted a number of times by various users detailing an extraordinary action movie-esque scene with antifa throwing molotov cocktails and "200 rounds of fire" being exchanged.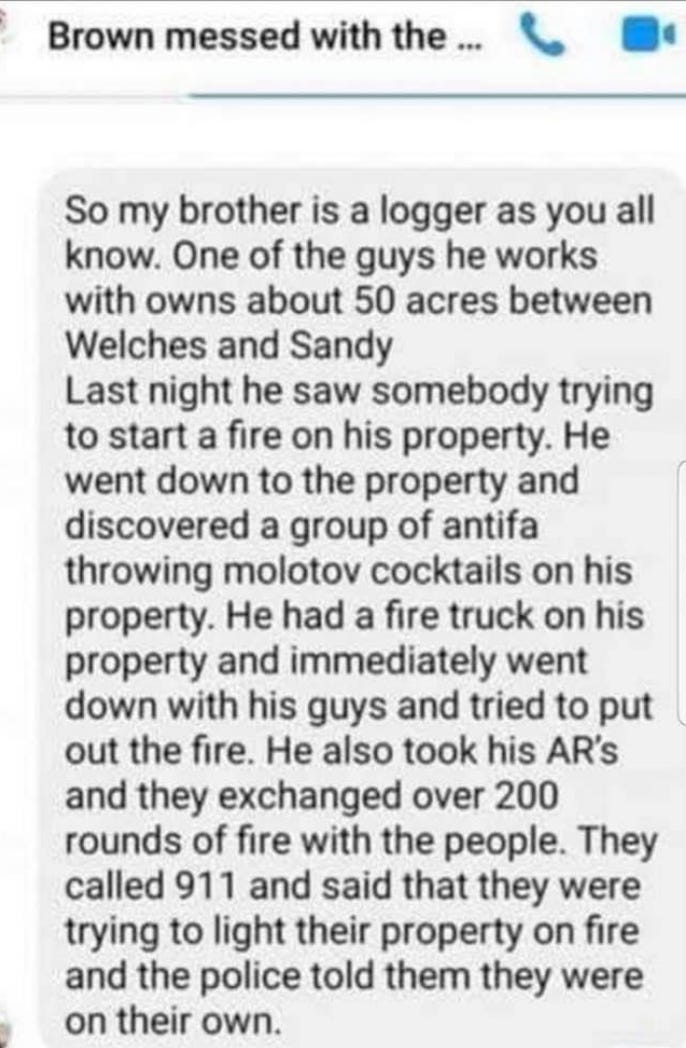 In a rare occurrence when a link to a news story is shared by someone claiming antifa is setting the fires, that link ends up A) having not a single mention of antifa or B) being an old article that has nothing to do with the current wildfires. One link commonly being passed around, for example, is this story of a man with a machete being arrested for arson…in July.
Of the accounts and posts that are still active on Facebook, there are two main "sources" (i.e. not random personal profiles or accounts) being shared that attempt to link antifa and the wildfires together.
On it's Facebook page, The Roseburg Beacon says its an Oregon print weekly run. It's presented under the guise of just being a local news source. However, the outlet, which is run by local real estate agent David Jaques, clearly has a right wing bent. A quick look at Jaques own Facebook page shows he often pushes right wing narratives such as anti-mask content surrounding the coronavirus pandemic. Facebook pages for both the Beacon and Jaques heavily push conspiracies about antifa being involved with the wildfires.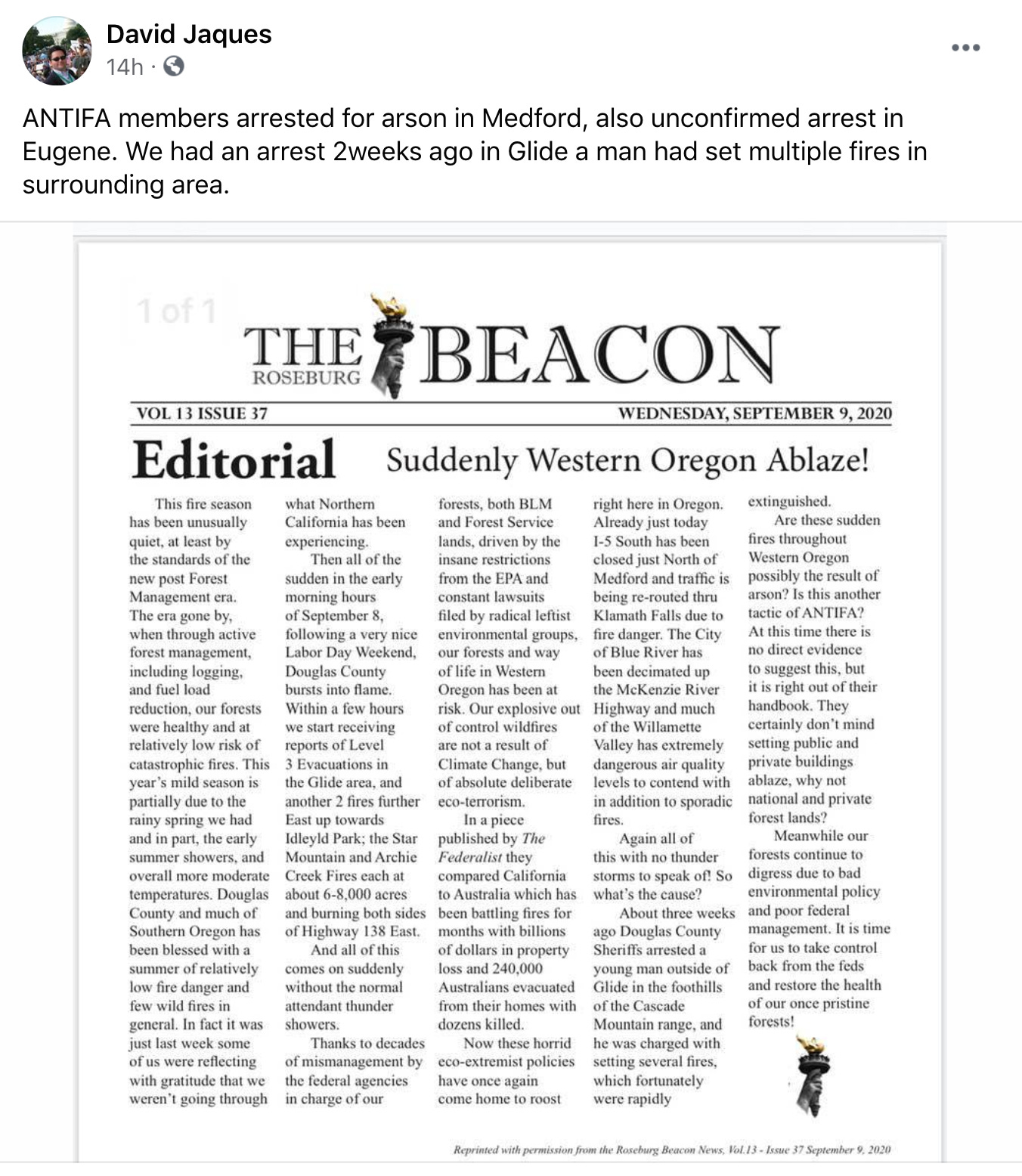 Note how Jaques spreads fake news about antifa arrests in his Facebook post, but the embed to his own outlet only speculates about antifa's involvement in the wildfires. Because there's no proof. Because it's not true.
That brings us to an article from RT (Russia Today.) The headline of the piece reads: 'Antifa are thrilled to hear this': Portland police ask protesters not to start blazes amid statewide wildfire emergency.
It is true that Portland Police asked protesters on Twitter not use fire in demonstrations on Tuesday night. Here's what that looked like:
So, where is the "Antifa are thrilled to hear this" line from RT's headline, which highly insinuates an official statement that protestors support the wildfires for some bizarre reason.
Portland Police did not say that. Right wing provocateur Andy Ngo, who is quoted further in the article, did.
Combine these conspiracy theories, rumors, insinuations, and lack of reading comprehension…and that's how the "antifa started the fires" misinformation spreads.